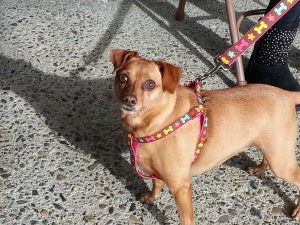 Miniature Pinscher, Chihuahua
Spayed/Neutered
Up-to-date with routine shots
Hi, my name is "Sadie". I am a female miniature Doberman pincher/ Chihuahua mix. As of 2016, I am 8 years young and quite spunky. When I first came to my foster mom I was 25 lbs, so she gave me the nickname "Meatball". I love it when she calls me that =). I am now a svelte 12 lbs and I love to play with her two dogs. We got along great once I warmed up to them. Squeaky toys and playing tug-o-war are some of my favorites. I am house-trained and crate -trained. I think I'm pretty smart, because I know how to "sit", "stay", "turnaround", and "go to bed" (which means to go to my crate when its bedtime). I love to cuddle, give kisses and go for car rides. Once I get to know my person, I follow them around everywhere. I hope you will consider making me a part of your family.
Adult, Female, Small